Transportation
TRANSPORTATION

The Senior Center Buses and Van may be used by any Berlin resident, age 60 and older, OR any Person with a disability, 18 years or older. These vehicles are equipped with a wheelchair lift and operate Monday through Friday from 8:30 AM to 3:30 PM.
Service is "curb to curb;" therefore, riders that may require assistance getting to or from the curb should be accompanied by a companion who can provide such assistance. The driver may use his/her discretion to determine whether or not transportation will be provided in the event that safety is a factor. This includes personal modes of transportation other than a traditional wheelchair, such as Scooters and Motorized Wheelchairs. The passenger's mode of transportation must be able to be tied down securely, both in the front and back of the unit.
In the case of Scooters, the passenger must be able to transfer to a seat on the Senior Center Vehicle while it is in transit. Arrangements can be made for a home visit with the driver and a vehicle to determine if we can safely transport a passenger. Please allow at least five (5) business days for this service.

Bus Shopping and Schedule Information: For reservations and cancellations call: (860) 828-7006. Please remember to have: the address of the doctor; the time of appointment in front of you when calling to reserve a ride. You are responsible for having the correct information.

For your ride home from a scheduled appointment call: (860) 250-0510.

Medical appointments-Berlin and New Britain only. All medical appointments should be scheduled between 9:00am and 1:15pm.

Regular appointments (Banks, pharmacies, post office, hair and nail salons in Berlin, and any town buildings).
IMPORTANT REMINDERS FOR ALL BUS RIDERS:
1. Reservations MUST BE MADE AT LEAST 48 HOURS IN ADVANCE for all medical appointments.
2. Reservations MUST BE MADE AT LEAST 24 HOURS IN ADVANCE for all regular appointments.
3. All bus reservations must be made during our regular business hours, 8:30am to 3:30pm.
4. All calls for rides home MUST BE MADE BY 3:00pm.
5. Cancellations can be taken at any time. An answering machine is available after normal business hours.
6. You are allowed two (2) stops per day except when going to the grocery store.
WEEKLY GROCERY SHOPPING SCHEDULE IS AS FOLLOWS:
MONDAYS - STOP & SHOP
TUESDAYS - SHOP RITE
WEDNESDAYS - STOP & SHOP
NOTE: All grocery shopping trips can take up to a maximum of six (6) shoppers except when the Director approves for more than six.
7. All riders should be ready
one hour in advance
of their scheduled appointment time.
8. Please inform the Senior Center if your appointment will be longer than usual.
9.
We are unable to provide transportation to and from medical procedures, Dialysis or discharges from the hospitals or other
facilities.
10. You are not allowed any unscheduled stops unless it has been approved by the Senior Center Director.
PLEASE NOTE:
11. ON ALL SENIOR CENTER SHOPPING TRIPS-WHETHER IT IS A GROCERY OR A SPECIALTY SHOPPING TRIP, RIDERS MUST BE ABLE TO CARRY WHAT THEY PURCHASED. IT IS NOT THE DRIVER'S RESPONSIBILITY TO CARRY HEAVY BAGS OR MULTIPLE BAGS FOR AN INDIVIDUAL.
Transportation Timely Tip:
In order to save time and fuel and in consideration of others, please remember to call and cancel a previously scheduled ride when you are not taking the bus.
For local bus routes, call CT Transit @ 800-704-3113 or check
www.cttransit.com
on line for maps and fare information.

This vehicle has been paid in part by a grant from the Federal Transit Administration-Section 5310, and therefore extends transportation services to disabled Berlin residents regardless of age. Please contact the Senior Center at (860) 828-7006 to request transportation.

ADA PARATRANSIT-MAY BE ABLE TO HELP YOUR TRANSPORTATION NEEDS
Are you unable to get to your doctor's appointments in Hartford, Wethersfield or West Hartford? Do you need to go shopping on Saturdays and Dial-A-Ride is not available? Are you unable to use the city buses (CT Transit Fixed Route Buses) to get to your doctors' appointments or to take you shopping? ADA Paratransit may be for you. ADA is designed to help individuals with disabilities of any age that are unable to navigate the city buses. ADA picks you up at your hoe, brings you to and from your destination and is available 6:00am-9:30pm, Monday through Saturday. For information about the program, call (860) 589-6950. An application is required before using the service.

PLEASE NOTE ADA FARE INCREASE
The CTTRANSIT bus systems Paratransit fee has increased to $3.00. All clients, regardless of whether or not they qualify for senior/disabled fare on the CTTRANSIT bus system, are responsible for paying the full fare. Paratransit ticket books are available for purchase for $24.00 for 10 rides. It is recommended for individuals to purchase the ticket books as it does save $6.00, particularly if they will be using the service frequently.
Contact Us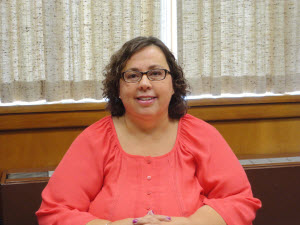 Fax: (860) 828-7116

M-F 8:30 a.m. - 4:00 p.m.